Hung Gar Kung Fu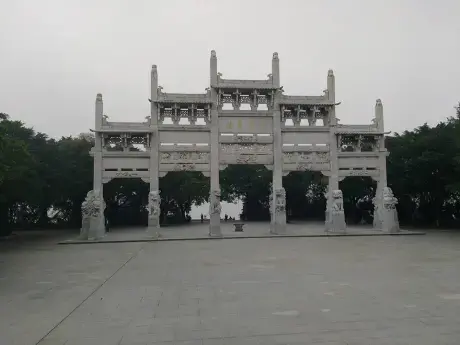 "Monastery"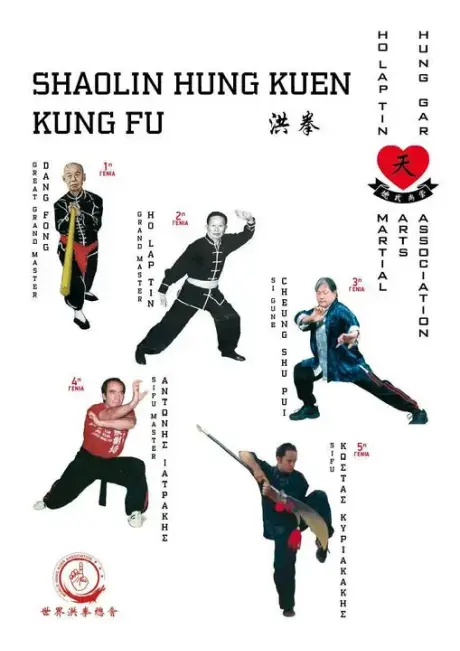 "Our modern genealogy"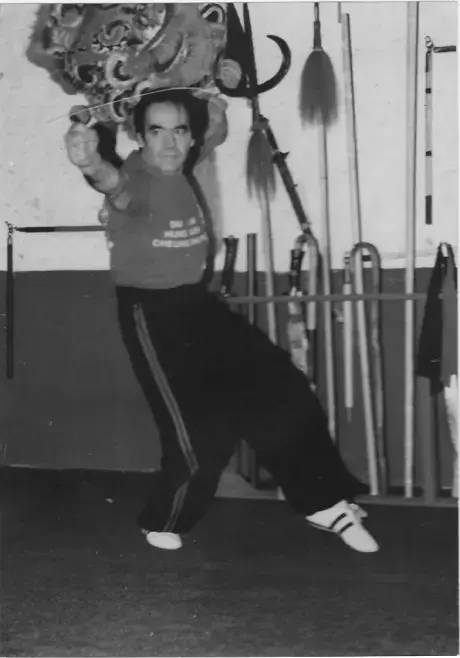 "Sifu Iatrakis Antonis"
We teach "Hung Gar" kung fu or "Hung Kuen" kung fu, which is one of the most popular systems in China and specifically in South China. It derives specifically from the Canton province of South China and it is the most popular from the 5 basic styles that are: 1. Hung Gar, 2. Fut Gar, 3. Choy Gar, 4. Li Gar and 5. Mok Gar. Hung Gar initially has its origin from the Shaolin monastery of Henan province in North CHina. During the Qing dynasty (1644 -1912) people suffered a lot from their rulership and the Shaolin temple helped, protected and trained the rebels that opposed Qing dynasty. That was the reason that the rulers send an army that destroyed and burn down the Shaolin monastery, killing most of the monks that lived there.
One monk named Gee Sin Sim See with 4 of his students managed to survive from the destruction. 2 of those students, named Hung Hei-gun and Luk Ah Choi, fled to the South and started teaching the authentic Shaolin kung fu they have learned in the temple. Our kung fu has its origins from Luk Ah Choi, which he taught Wong Kei Ying, which he later taught his son Wong Fei-hung the Shaolin martial art. Wong Fei-hung became one of the most famous martial arts teachers and healers in Canton province and he contribute a lot in the Hung Gar kung fu by also adding one form called Tit-Sin-Kuen (Iron Wire form).
One of the students of Wong Fei-hung was Dang Fong, which he was known as the 'Tiger of Sai Gwan'. After the 2nd word war, Dang Fong open a kung fu school to Hong Kong and invited one of his students named Ho Lap Tin to be his assistant. Ho Lap Tin was highly respected in Hong Kong and after his teacher, Dang Fong, passed away he continue to teach Hung Gar until the day of his death in 1996. One of Ho Lap Tin students was Cheung Shu Pui which he, after Ho Lap Tin's encouragement, established the first Hung Gar school outside of China, in USA, Philadelphia.
It was in this school that Iatrakis Antonis learned the art of Hung Gar kung fu. Iatrakis then, after his teacher's advise, he opened a kung fu school in Heraklion Crete in Greece, in 1983 and he was teaching kung fu there until the year 2000, which he asked one of his best students to take over the school for him and Iatrakis got back in USA. The student that took over the school is the current schools sifu, Kyriakakis Kostas, which until today he is teaching Hung Gar kung fu in Heraklion
Our sifu
Our school sifu is Konstantinos Kyriakakis. He started his journey in martial arts when he was 8 years old, after watching a Bruce Lee movie (Fists of Fury). His first school was a Karate school operated by a teacher called Nikos Mitropoulos in Heraklion Crete. He stayed in this school until he became 18 years old and he accomplished to gain a black belt. After that he lost his interest in Karate and he started to search for a more complete and comprehensive martial art. In 1993 he first visited Iatrakis Hung Gar school and he became very impressed by the lessons of the school, so he immediately started his training under his sifu guidance, Antonis Iatrakis. In 2002, Iatrakis, propose to Kyriakakis to be the new teacher of the school and Kyriakakis happily accepted and he is the teacher of the school until this day.
Kostas Kyriakakis and his students have many achievements in the kung fu world. They have won first and top places in worldwide competitions like the World Hung Kuen Association and in the World Wushu Championships and also other competitions locally in Greece. Kyriakakis is also a member of World Hung Kuen Association and Lineage leader in Greece for the Ho Lap Tin Hung kuen Martial Art Association.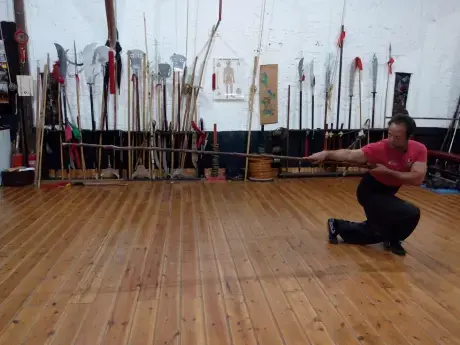 "Sifu Kyriakakis Konstantinos"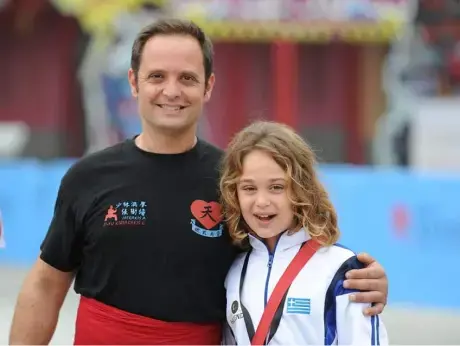 "Sifu with his son, Idomeneas"
Our school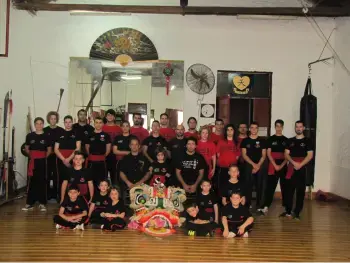 "Our school"
Our school is located at the center of Heraklion, Crete in Greece. Since 2002 we teach the authentic and traditional Chinese kung fu martial arts system called, Hung Gar or Hung Kuen. "Gar" means "family", "Kuen" means "fist" and "Hung" was the first name of one of the most gifted shaolin monks and founder of the system, "Hung Hei-gun". We, as a school, have participated in a lot of tournaments in our country and worldwide and we have achieved many distinctions in a wide variety of levels. Also in Heraklion, we have organized a decent number of kung fu demonstrations, spreading like that the art and philosophy of kung fu to the people.
contact us
Can't make it to our school? That's OK!
Contact with us and get started today.
working hours
School is open at the hours below,
Contact us For online, personal lessons.
Monday -
Wednesday -
Friday:
From 6 p.m. to 10 p.m.
Tuesday -
Thursday:
From 7 p.m. to 10 p.m.
Saturday -
Sunday:
Closed